Roman Reigns expected to face Seth Rollins after Wrestlemania 34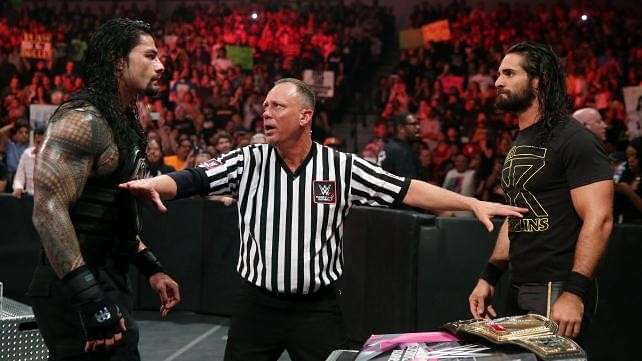 The main event of WrestleMania 34 is pretty much settled, as Roman Reigns will take on Brock Lesnar in a match for Lesnar's WWE Universal Championship. Roman Reigns is expected to win the match and the title, and give the red brand a champion who will actually be a part of each and every show.
But who will Reigns feud with after he wins the Universal Title. Lesnar is likely leaving WWE after WrestleMania, so fresh challengers will be waiting for 'The Big Dog.' Finn Balor is being built up for being a challenger, but the most obvious pick will be Seth Rollins.
Rollins will be a viable contender for Reigns' title. They were former members of The Shield, and have excellent chemistry in the ring. Rollins is more charismatic than ever after the acclaimed gauntlet match and the return of Curb Stomp.
Rollins defeated Reigns clean in the first part of the gauntlet match, after which Reigns smiled and shook his hands. Dave Meltzer suggests that the loss was for a reason. He said on the Wrestling Observer Radio: ""Roman's loss is not just a loss. A lot of the time I get mad when they have a top guy lose for no reason whatsoever.
"It's kind of like if you're a top guy and you lose, it should only be for a reason and this had a reason, I think.
"I think the reason is that Roman Reigns and Seth Rollins will be working a program down the line. If they're not, then it was for no reason."
Rollins is expected to lose the title match at BackLash, and then move to Smackdown Live!
---